Think our library only has books about fundraising?  Think again!   Check out some of our latest additions:
The nonprofit's guide to human resources: managing your employees and volunteers by Jan Masaoka.  This handbook covers all aspects of human resources management and provides a legal context for most HR decisions. Chapters cover recruiting and hiring staff, salaries and benefits, performance reviews, supervision and team leadership, termination and layoffs, volunteers, contractors (including a sample contract agreement), the board's role, unions, creating a safe workplace, and office policies. Includes tips from experts and real-life examples.
The board member's easier-than-you-think guide to nonprofit finances by Andy Robinson. Written for board members, this book covers a variety of nonprofit finance topics including financial management and controls, insurance, oversight, finance committees, conflicts of interest, financial statements, budgets, capital vs. operating expenses, audits, reserve funds, and endowments. Appendices include worksheets, planning forms, and recommended budget amounts.
The public relations handbook for nonprofits: a comprehensive and practical guide by Art Feinglass. This book covers basic public relations techniques for news releases, press kits, newsletters and other printed materials, direct mail, advertising, radio and television appearances, and production of audio-visual communications. Sample documents are appended.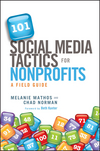 101 social media tactics for nonprofits: a field guide by Melanie Mathos. This handbook offers guidance in creating a social media strategy for nonprofit organizations. It's broken down into five key areas: setup, communication, engagement, fundraising, and measurement/evaluation. Includes checklists and numerous practical examples on customizing social media tools for nonprofits.
All of these books can be checked out by filling out our Borrower's Registration Form. We invite you to visit the library and browse our collection today! You can also browse our collection using our online library catalog.